A poetic and pragmatic architectural approach
SiOO:X wood protection can be applied to almost all wood types and wooden construction techniques, and provides effective multi-protection against all climatic conditions. Because of SiOO:X' dynamic protective shield, wooden buildings treated with SiOO:X can be found in every corner of the world. In Southern Ontario's bucolic countryside our treatment has become part of visionary wooden architecture. 
Consisting of two interconnected structures, Grange House in Ontario, Canada, is both a poetic and pragmatic architectural composition. With a fully renovated barn and a new one-storey addition, the project celebrates wood construction and features a careful approach to the agriculatural vernacular. This made SiOO:X the perfect choice for long-lasting wood-protection with a natural appearance.
Designed by Superkül architecture, Grange House is a renovation-and-addition-project, but one that carefully connects the look and feel of a vernacular farm with a modern family-residence. Superkül has been working with the local conservation authority to shift the footprint of the former farmhouse, which had previously sat further back in an erosion hazard zone, to line up with the west face of the barn.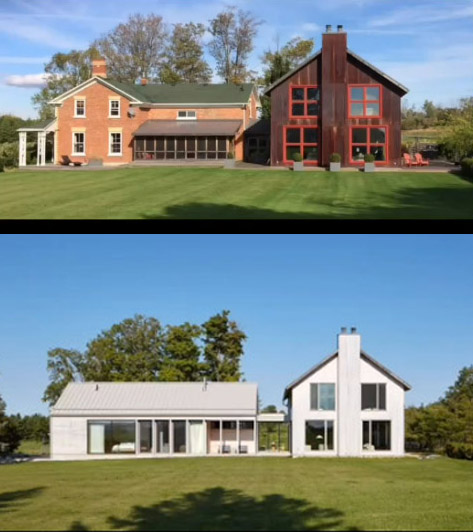 This way, the architects created a continuous edge between the two architectural forms and forged an uninterrupted sightline: from the principal bedroom through the new family den, covered porch, central living space, and out beyond the south-facing glazing of the barn into the lush landscape.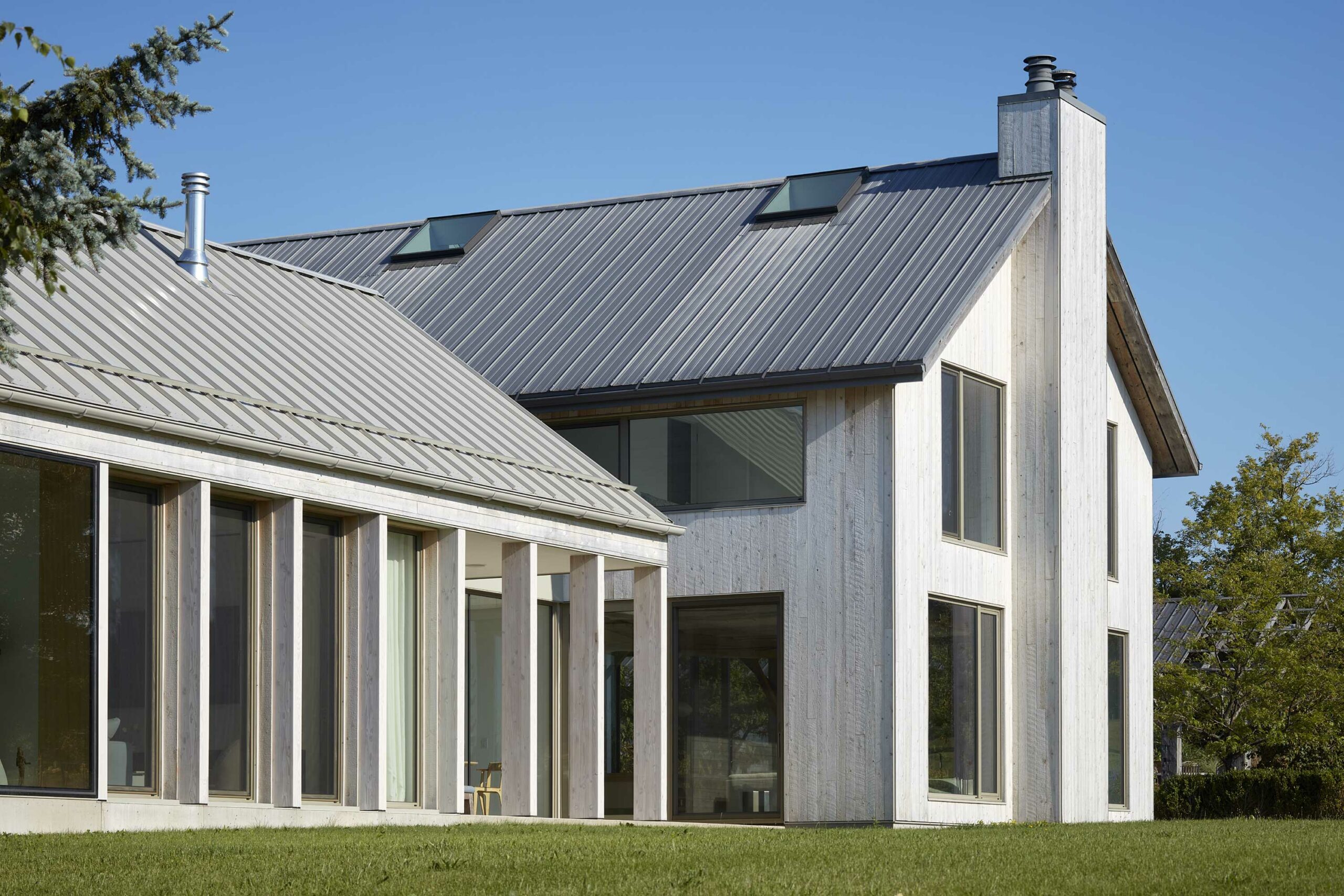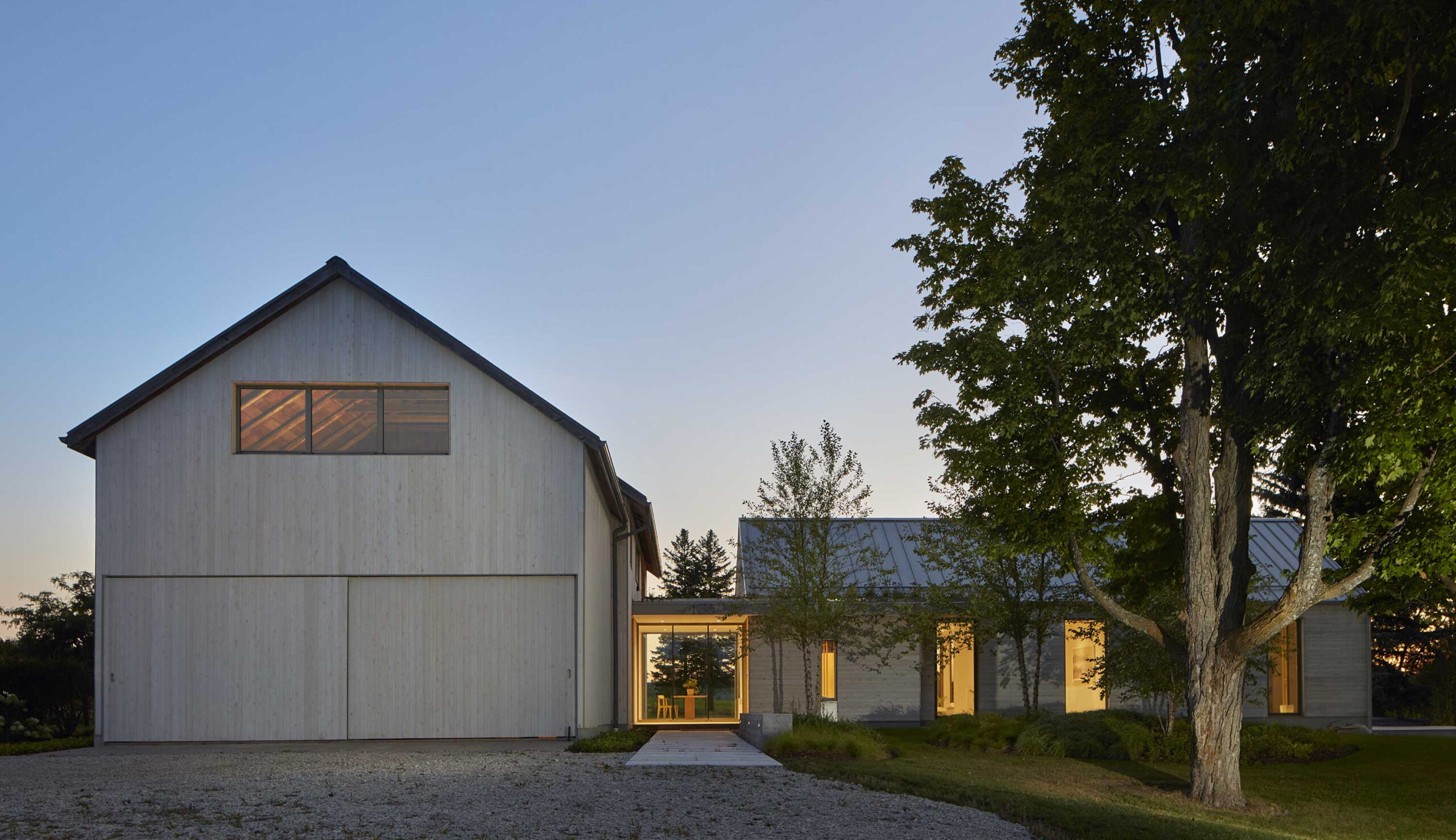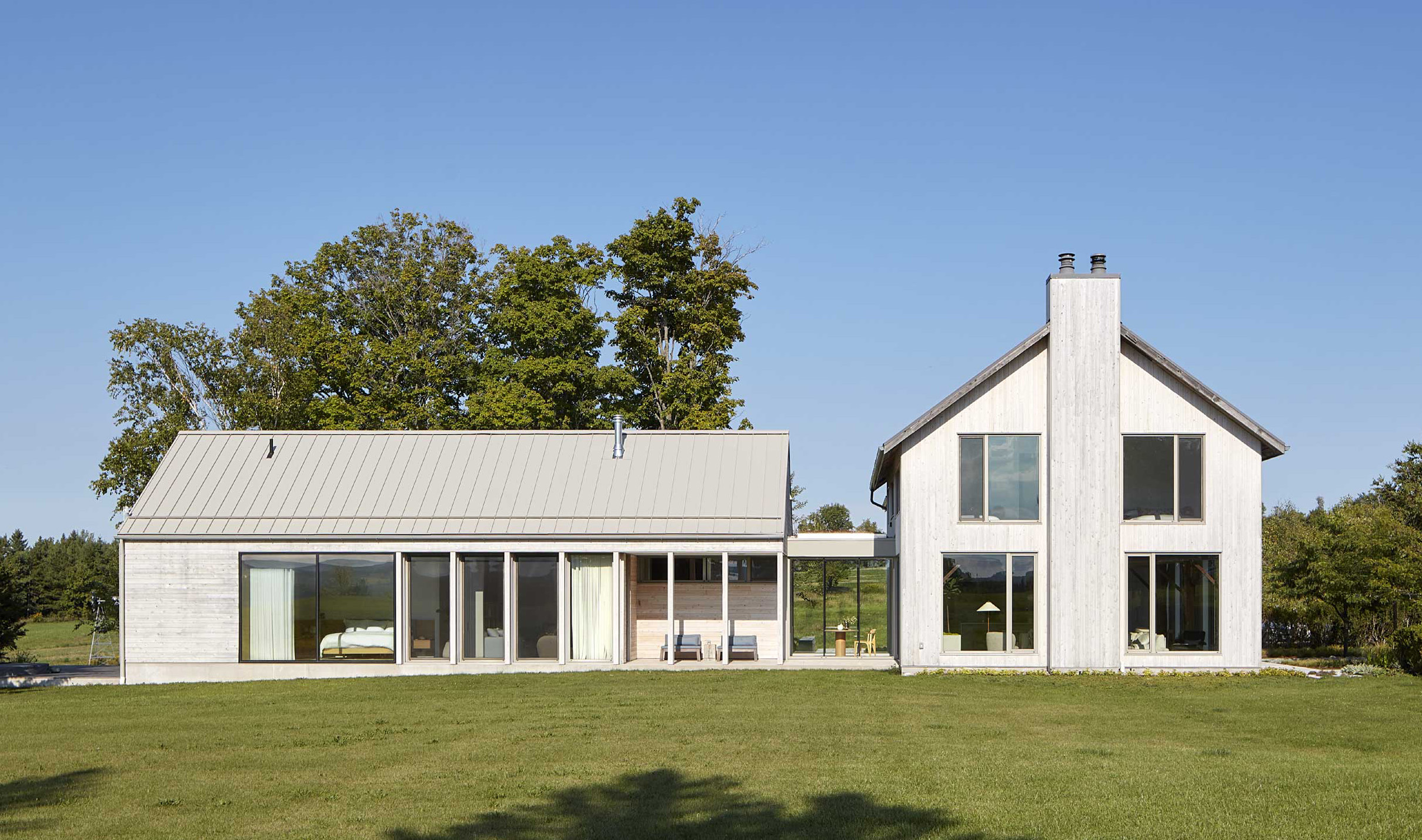 To revitalize an old farm
Grange House celebrates wood construction as it was updated with cedar sidings. In a previous renovation, the wood structure was encased in a concrete shell and wrapped in corrugated steel. Superkül redeployed the insulated concrete formwork, after stripping it of the steel cladding, by integrating it within a new high-performance envelope: A success story of adaptive reuse and aesthetic juxtapositions!
For the farmhouse, the rough sawn cedar siding exteriors arrived on site, pre-coated with SiOO:X clear-coat. Over the course of a year, the natural look of wood began to shift to silvergrey and has now a wheathered, nearly bleached appearance. Superkül then also used sidings with a pigmented version of SiOO:X on the garage building which happened at a later date. With the lightest of the pigmented shades they ensured that the colour matches the house – and with SiOO:X Protective Panel colors it does so right from the start.
The SiOO:X system brings many benefits through the innovative use of proven, patented silicate wood modification technology. SiOO:X essentially consists of a unique combination of silicon and potassium – a mineral stain that encourages organic petrification and gradually strengthens the wood's fibers for a long-lasting protection from the elements. Above that, by altering the wood's pigmentation over time, sidings and decks develop a natural, evenly weathered appearance and turn from yellowish-brown to silvergrey.
See more beautiful projects
Filter projects
Filter projects
SiOO:X Premium Wood/Surface Protection Deck Step 1 & 2

SiOO:X Premium Wood/Surface Protection Panel Step 1 & 2

SiOO:X Premium Wood/Surface Protection Marine Step 1 & 2