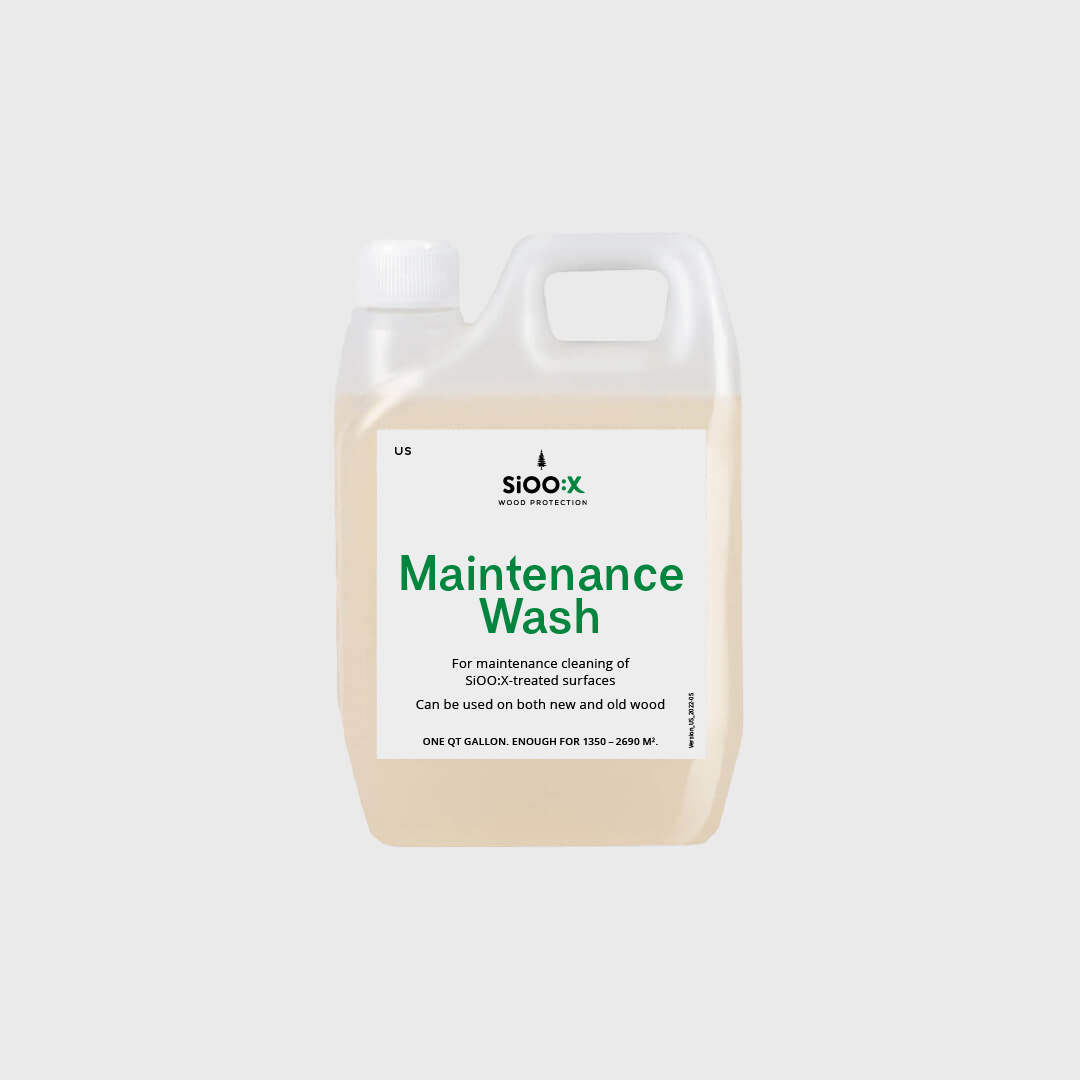 SiOO:X Maintenance Wash
Fit for
Both new and old wood
Maintenance cleaning of SiOO:X-treated surfaces
Quick and simple cleaning is all that is required

Enjoy your SiOO:X treated surfaces and keep the wood healthy with a  lovely light-gray luster for many years to come.
To maintain SiOO:X-treatment, where possible brush away surface dirt. When necessary and if there is any algae growth on the surface use SiOO:X Maintenance Wash to remove the algae and any staining. This is normally enough to restore the surface appearance.
Instructions
Diluting with water: Dilute 1 part SiOO:X Maintenance Wash in 16 parts of lukewarm water. If necessary increase the amount to 2 parts.
Spread the mixture on the surface with a soft brush, leave on for 20 min
Carefully brush the surface with the soft brush and then rinse well.
Allow the surface to dry before placing furniture, etc. on it.
Remember
Do not use cleaners that contain oil, such as soap. Oil residues can discolor the wood and also attract algae and mildew. If you should nevertheless choose to use this type of cleaner – thoroughly rinse the wood surface with water afterwards.
Do not clean with deck wash or other strong alkaline products. Such cleaners can damage the outer layer of SiOO:X Wood protection.
Do not use a pressure washer. It can damage the outer layer of the wood protection.
If superficial algae growth occurs (most common in shaded, damp areas), first wash with our maintenance wash. Should the algae persist, use an algaecide.
Contents
5–15% anionic and nonionic surfactants.
Keep out of reach for children. Sort rinsed packaging as hard plastic.