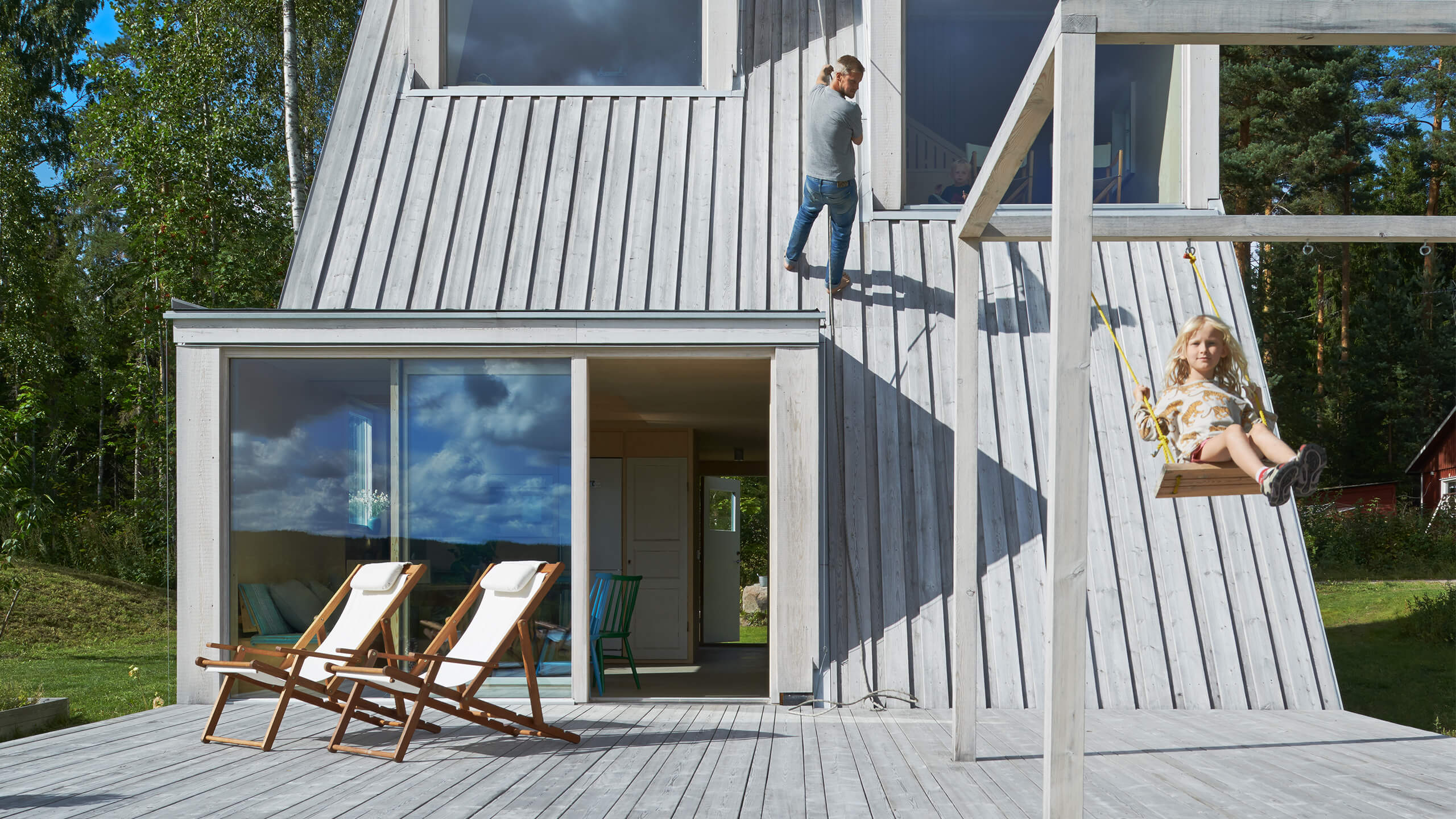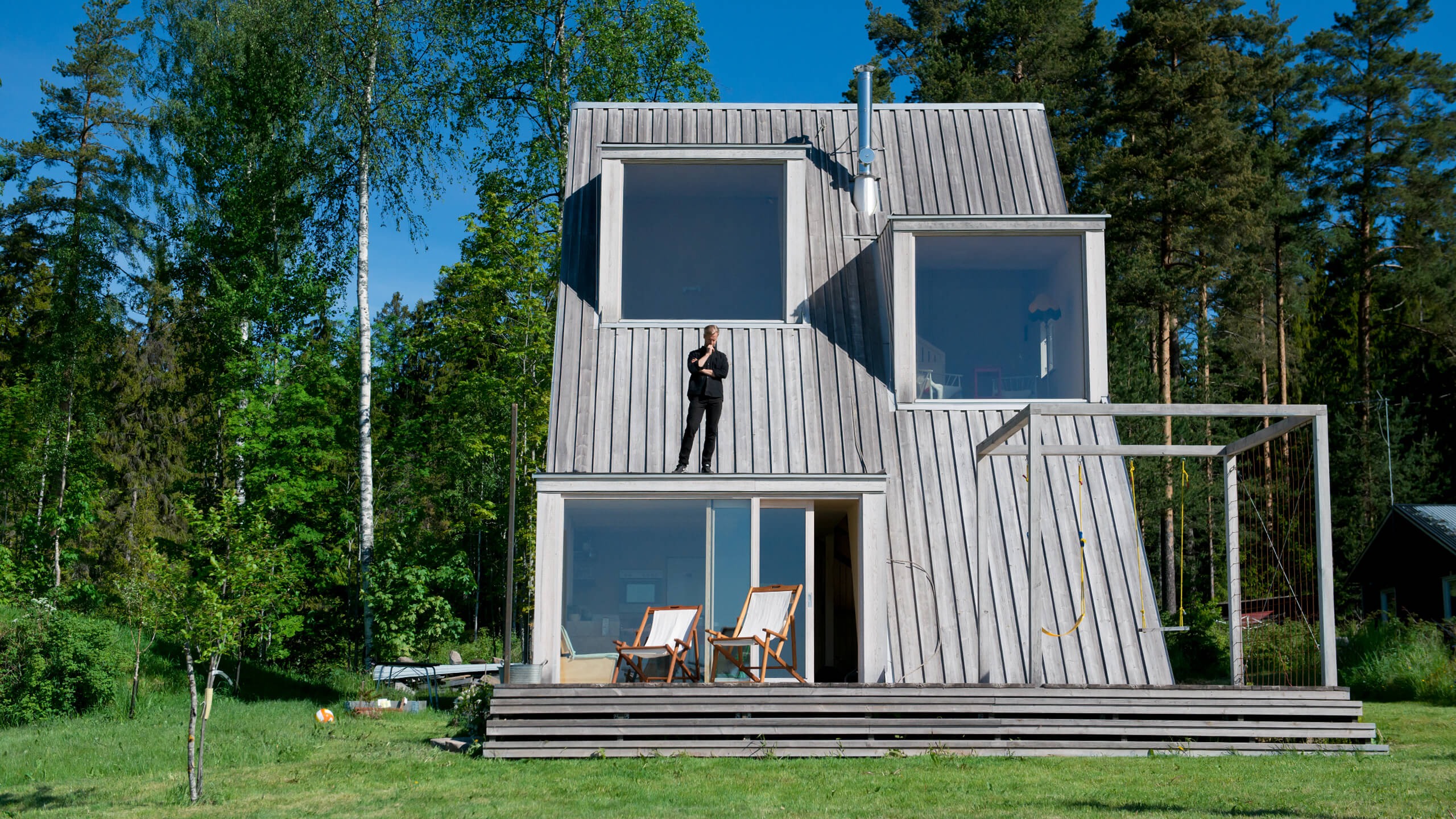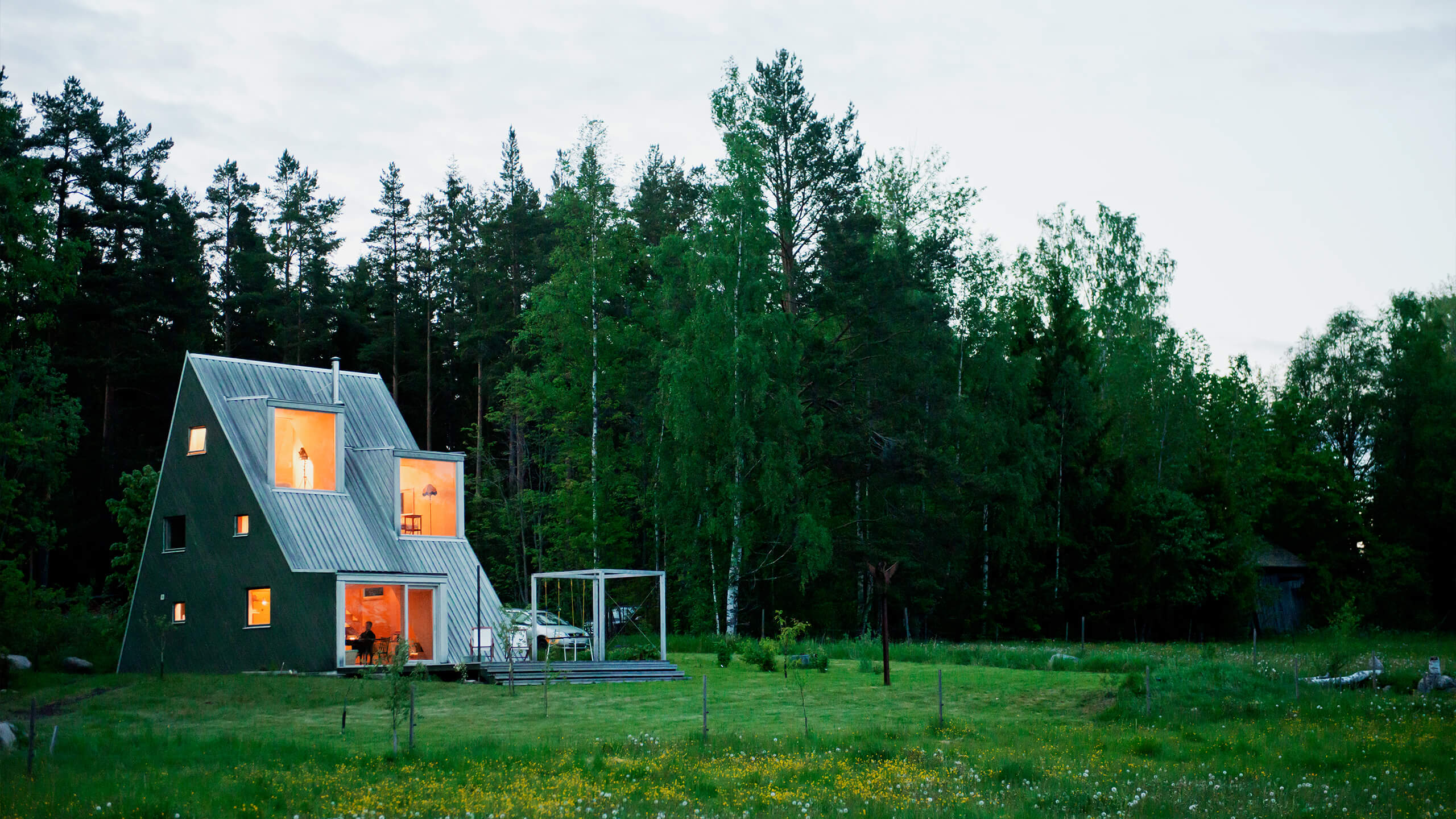 Qvarsebo Summerhouse
Triangular breathing space.
A wooden creation in silver-gray rises from the ground on the open grassy plain and reaches for the sky. The creation is Leo Qvarsebo's summer home, a triangular-shaped wooden house in silver-grey and forest-green. The house is not far from the village where Leo grew up and the cottage where he spent many summers. This is where Leo and his children, Siri and Edvin, come to take respite from their hectic city life in Stockholm.
Location: Hedemora

Time: 2011

Architect: Leo Qvarsebo

Type of Wood: Heart pine

Time elapsed: 2016

Type of Sioo:x: SiOO:X Premium Altan / SiOO:X Premium Panel
"This is my little piece of paradise, my tranquillity," says Leo.
As a 2007 graduate with a degree in architecture, Leo Qvarsebo was eager to tackle a real project. He had long nurtured the dream of building his own summer home in the region around Hedemora, where he grew up on a farm. Leo also shares a simple cottage in the same area with his three siblings and their families.
"At times around 20 of us shared space at the cottage, which eventually became untenable," says Leo.
One day he was out riding with his cousin on a tractor, exploring the grounds on his cousin's farm. After a while they came to an open grassy plain near a cow pasture and a small lake. Leo immediately fell in love with the lot and the location. His cousin pointed out that there was no access to either electricity or water.
"I just said: "No problem. We'll go for it anyway."
Leo bought the lot, pulled electricity and water to the property, and in 2009–2010 he began to design his summer house. Initially he sketched a traditional house, but soon rejected the idea.
"Life is too short to build boring houses. It takes much too long to build them and you live in them way too long," says Leo.
Instead he viewed it from his own perspective, how he and his children Siri and Edvin wanted to spend their free time in the summer house: to be able to prepare good food together, read and relax. Leo wanted to clearly distinguish between these three functions and create a type of journey between them within the house. Meanwhile, these rooms were to offer different views of the meadow outside and the nearby pasture and swimming hole.
"I then chose to drape the whole thing, tent-style, which is the simplest form of architecture. Like leaning two poles against each as protection against the elements," says Leo.
The house was about 900 square feet, with eight rooms and a winding staircase between the three floors. He chose to build the house entirely in wood. Inside, the walls, floors and furniture were cut to size on location from plywood taken from the closed "Kärnan" puzzle factory, while outside, the deck, walls and sloping roof were covered in heart pine paneling.
Leo chose to treat the deck and the long sides of the house with wood protection from Sioo:x.
"The silver-grey color held strong appeal for me and lent a smooth, natural and beautiful expression to the wood surfaces. The wood also gives a very soft impression, which I perceive as a velvety surface.
Leo was also drawn to the environmental aspects of the wood protection, since he and the children are often barefoot on the deck and sit while leaning their bared upper bodies against the exterior walls.
"You just can't use a product that raises any misgivings about its contents," he says.
The gables of the house are not silver-grey, but instead were treated with pigmented wood protection from SiOO:X. In order to tie the house in to its location at the edge of the forest, these surfaces were painted in a homogenous 'forest' color," says Leo.
"The result is a definite contrast that is seen when walking around the house. The deck stands out in the landscape, while the gables blend into the woodlands," he says sitting on the deck while his son Edvin gains speed on the swing mounted in the pergola.
There is no doubt that Leo Qvarsebo enjoys hanging out at his summer house. Like many other parents of young children, his life can be hectic. The triangular wooden house is his respite, 2.5 hours from all his daily demands in Stockholm.
"Life here is only about the house, about just being in it and living in tranquility.
Leo admits, however, that he sometimes gets a bit restless and wants to occupy himself with a project. He relates how he enjoyed brushing on the wood protection – especially on top of the sloping roof.
"I was really living on the roof, climbing up and down with the rope that still remains in place. Soon it will be time for the second treatment and then I'll just have to climb back up again," he says with anticipation.